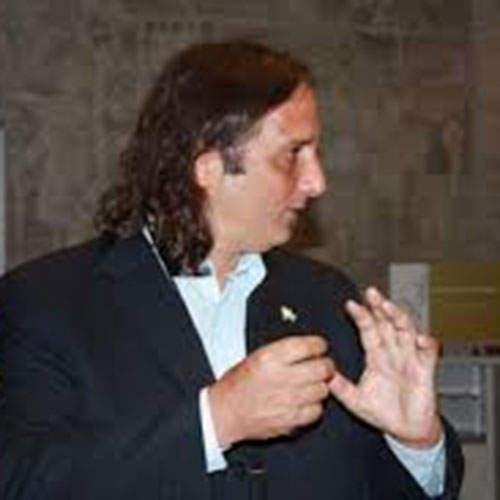 🎤 Interview: Prof. Dr. Marcus Stück
Interview: Prof. Dr. Marcus Stück
``Children's yoga reduces hyperactive behaviour and regulates emotions``
The demand for the integration of yoga in educational institutions is already being implemented in many places. This is not least a consequence of the research and publications of Prof. Dr. med. Marcus Stück, who is regarded as a pioneer of children's yoga research.
Professor Stück, you are a psychologist, psychotherapist, yoga teacher and are considered a pioneer in researching children's yoga. Is a health-promoting or therapeutic effect of children's yoga scientifically proven?
Yes of course! In addition to my practical work with children's yoga, in 1993 I began to scientifically investigate its effects. Children's yoga in schools was not common at this time and only through the findings of science, the entry into educational institutions was acceptable. A small example: In Leipzig today all the nursery facilities work with the "Relaxation Training with Yoga Elements (EMYK)", which we have developed and which became known as the first scientifically tested yoga program for children. This concept is also used in schools in Austria, Latvia, Sri Lanka and South Africa. The worldwide acceptance of the children's yoga was only possible through scientific research, which is operated and published very seriously except in Germany, in India and the United States.
What exactly did you find in your research?
At that time, our project team at the University of Leipzig was able to demonstrate for the first time increased concentration in children as a result of the reduction in motor or vegetative tone through children's yoga. For this, EMYK received a science award from the Cassianeum Foundation. In 2008, the German Federal Ministry of Health promoted a project to implement children's yoga alongside other methods in 22 daycare centres in northern Saxony. That would not have been possible without the prior determination of the mechanisms of action of children's yoga. Because the mere illustration of the effect is not enough. The mechanisms of action should be explored on a physiological, biochemical and psychological level or their relationships and synchronization processes. For example, we found that more and more children have skin hypersensitivity, which correlates with mental fatigue syndromes. Since yoga is auto-regulatory, the hypersensitivity states can be broken down and thus a better mental stability can be achieved. Psychologically, the reduction of psychosomatic disorders and an improved resistance to stress in children by several studies are now relatively well secured. Such results must also be incorporated into educational plans, such as the "Healthy Education Master Plan", which was created in Saxony at the time. It states that physical approaches to reducing stress should initially play a more important role than rational processing mechanisms. When children's yoga teachers are informed about the mechanisms of action of children's yoga, they open doors to them and they can facilitate exciting projects in institutions.
What role do traditional yoga elements play in children's yoga?

In 2011 we published a little booklet for children yoga instructors. It describes the scientific basis of children's yoga. In this work we noticed that until now there was no definition of children's yoga. On the basis of the yoga sutras of Patanjali, we then worked out such a definition. It became clear that children's yoga must also refer to traditional yoga elements such as asanas, pranayamas and mantras. The program of the children's yoga CD "I'm glad you're here" takes into account and respects these roots in an appropriate way.
What exactly happens with the adolescents during the physical and emotional yoga exercises?
Here it is necessary to look behind the descriptions of the mere effects of children's yoga. The basic question is: "How does yoga regulate the vegetative balance of the child in terms of biological processes?" Several studies have shown that the problem of hyperactive children lies not in an over-excitement, but in an under-stimulation. Yoga regulates the excitement into an optimum for children. It reduces hyperactive behaviour and regulates emotions such as anger and anxiety. Only then will cognitive processes be added, such as influencing thoughts. Children's yoga is therefore a body-oriented approach to improving learning at school and the well-being of children.
What can children's yoga do in educational institutions?
Children's yoga alone is overwhelmed by the variety of education and learning issues surrounding education and learning. That's why every child yoga teacher has to consider what their yoga lessons can or can not do. In addition to reflecting on one's own practical work with the children, a theoretical and scientific examination of the basics of children's yoga is necessary. Only in this way can the indications and contraindications of children's yoga be clearly identified, for example, by a teacher or a health insurance company. During this process, it quickly becomes apparent that it makes sense to put children's yoga programs together with other biocentric methods of human development into a holistic approach to health promotion. Only the joint development of such an approach with other actors in the health and education sector promises its successful integration into educational institutions.
The concept of the children's yoga CD "I'm glad you're here" is to combine children's yoga exercises with mantras. How do you rate the impact of this approach on children?
Mantras are powerful energetic stimuli that have been deeply explored by spiritual teachers through their millennia-old tradition. These subjective effects also apply to the childhood area. Therefore, it is very useful to combine these methodologies in the sense of the classical yoga path, and to convey them already to children, as Patanjali described it in the yoga sutras 2000 years ago. The use of mantras is thus a deepening of the practice of child yoga and a wise decision. The valuable concept of the CD producers should still be scientifically evaluated, so that its impact can be published. I think it's good that the makers are sticking to the traditional yoga roots and wish you every success!